Since 1989 Music in Country Churches has been holding concerts in country parish churches.
Charity History
The immediate success was due to the remarkable friendship between its founder, Ruth, Lady Fermoy and its main sponsor Sebastian Walker (pictured right). Both were passionate about music and wanted to bring top quality live performances to audiences in the country to whom they were not readily available, at the same time as helping the churches where they were held.
Lady Fermoy's lifelong love of music stemmed from her own playing: she had been a pupil in Paris of the legendary pianist Alfred Cortot. Before Music in Country Churches she had founded the King's Lynn Festival (1951), much encouraged by the late Queen Elizabeth The Queen Mother, her close friend and neighbour at Sandringham. Music in Country Churches, which Lady Fermoy launched in her 80th year, also had active Royal support: at the start HRH The former Prince of Wales (now His Majesty King Charles III) became its Patron. During his Patronage he was an active and enthusiastic supporter, and regularly attended our concerts.
In her equally musical friend Sebastian Walker, Lady Fermoy found the ultimate accompanist for her new project. Sebastian, then in his forties, was founder of Walker Books, the ever-expanding children's book publisher. For all his business acumen and ambition, nevertheless a key part of his life was the piano—he practised for several hours each day. For Sebastian working with Lady Fermoy was a delight, and sponsoring Music in Country Churches was a perfect fit for Walker Books, which did so generously from the beginning.
The magic of the concerts put on by Music in Country Churches was there at their very first occasion, described here by Mirabel Cecil, Sebastian Walker's sister:
"The first two concerts were held in the summer of 1989 in Salle Church, Norfolk, one of the loveliest churches in England, rising dramatically out of the flat landscape. The Prince of Wales' red helicopter landed in a nearby field, and he was ushered into the front pew. As the performance progressed, the evening light faded through the tall perpendicular windows and in the roof bats flickered like little bits of burnt paper."
Thus began Music in Country Churches' distinguished and long-lasting existence. Its evenings have ever since been as romantic and memorable, not just for the first-rate performances, but also for the historic setting of these often remote churches. Since that first concert, Music in Country Churches has visited over 55 country churches and a total of nearly £600,000 in donations to support their fabric and upkeep.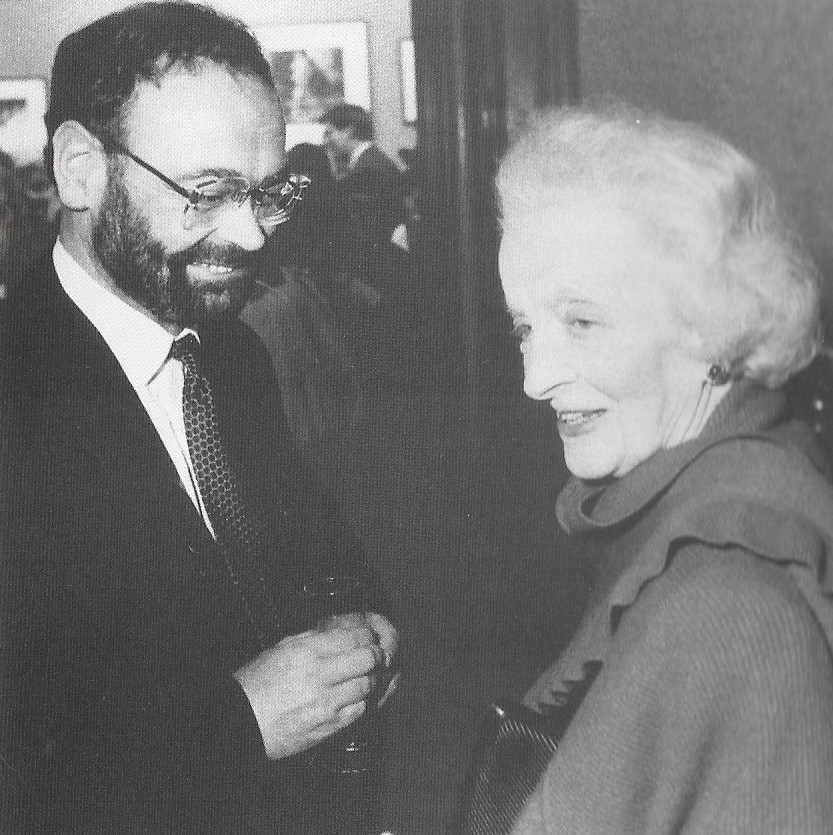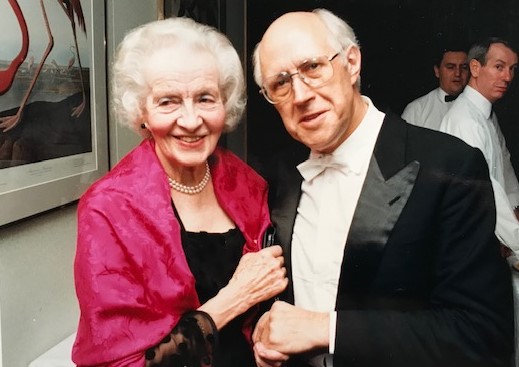 All these concerts have been outstanding as the roll call of top international musicians testifies. From Kiri Te Kanawa to the Sixteen Choir with Harry Christophers, Evgeny Kissin at the start of his career to Msistlav Rostropovich (pictured left with Lady Fermoy) at the height of his, the top quality of musical performance facilitated by Music in Country Churches has helped churches large and small, not just financially, but also in emphasising their importance in community life.
Music in Country Churches has enjoyed a long and fruitful friendship with the English Chamber Orchestra, and since 2020 we have collaborated with the Royal Welsh College of Music and Drama (RWCMD). Each year, winners of the RWCMD's performance prizes perform in our concerts with professional ensembles and accompanists. We are thrilled to be able to provide opportunities to talented young and emerging performers.
Lady Fermoy's colleague from the King's Lynn Festival, Alan Wilkinson, joined as Music Director, a crucial post he held until his death in 2016, when Rosemary, his wife, took over, retiring in 2019. She was succeeded in 2019 by Dr Philip Burnett.
"Our parish churches are an inalienable part of Englishness, the vertical centrepiece in every village composition, and the focus of so much that is important in our lives."

Matthew Rice Chairman
Mirabel Cecil became a Trustee after her brother Sebastian's untimely early death in 1991. When the much-loved Lady Fermoy died in 1993, her grand-daughter, Lady Jane Fellowes, became Chairman until 2000. Now the Charity is fortunate to have the artist and author Matthew Rice, himself a pianist, as Chairman.
Now more than ever is there a need for Music in Country Churches. The COVID-19 pandemic resulted in the longest period without concerts and live music in living memory. Music in Country Churches regrettably had to cancel its entire 2020 season. Its two areas of charitable interest—country churches and live music—have been amongst the sectors hardest hit by the COVID-19 pandemic. We were thrilled to resume arranging concerts in country churches in 2021, and in 2022 we held our first-ever concerts in Wales and Northamptonshire. We look forward to continuing to play in supporting our country's musicians and rural parish churches in the years to come.
If you would like to support our work and be part of this distinguished heritage us please do consider joining the Friends of Music in Country Churches and coming along to our concerts. Details and tickets are available here.